Writing for relaxation is about pure enjoyment. It's about making time for yourself, playing with words and nourishing your creative side. All without judgement.
There are plenty of reasons we might write during our daily lives. Many of them come with expectations attached – we have a message to communicate, an audience to please, a set of writing rules to follow. Certainly, there's a place for structure, form and discipline in writing. But here, on this website, I'm hoping for something a little different…
This website is about writing without judgement or rules. From experience, I know that if we give ourselves enough room to play with words, we can reap fantastic rewards. Writing can be relaxing and it can be great fun. It can connect us with our inner selves, and with the wider world, in new and wonderful ways. To do this, we need to shed some of our preconceived ideas about what makes 'good' writing. Below are some tips to help free the mind, so you can truly embrace writing for relaxation.
Writing for relaxation 'golden guidelines'
Follow these guidelines to get the most out of writing for relaxation: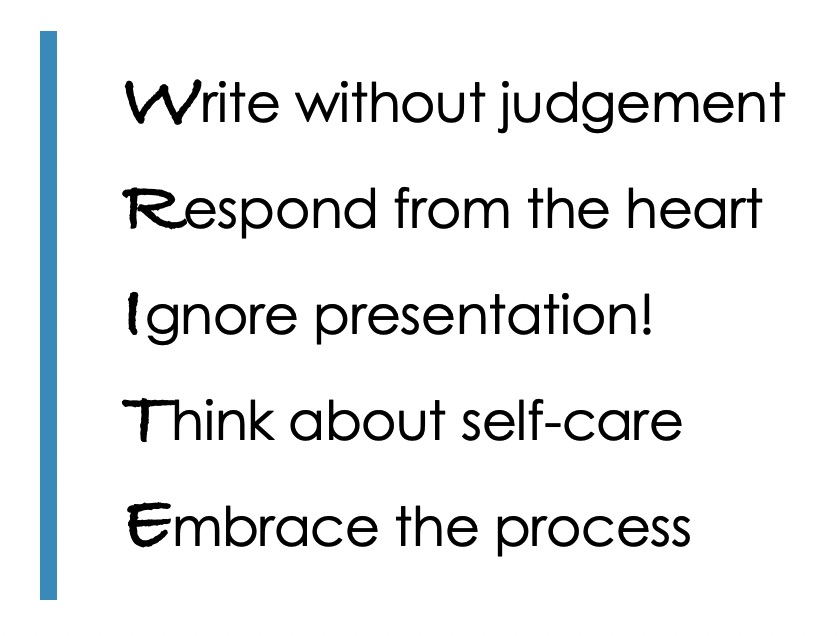 Write without judgement
One of the things I love about writing for relaxation is that there's no such thing as getting it wrong. There is no need to live up to anyone else's expectations. You are the main audience, so remember to be kind to yourself.
Respond from the heart
Honour your feelings when you write. Choose topics and sources of inspiration that feel right for you in the moment and your words will shine as a result.
Ignore presentation!
When writing for relaxation, it doesn't matter how you present your words. For once, you can break the rules! Spelling, grammar and punctuation aren't important. These are your words, so write them however you wish.
Think about self-care
Sometimes writing can take us to darker places than we might like. Check in with your emotions as you write and only continue for as long as you feel comfortable. If you do experience some uncomfortable emotions then come back out of them again by finishing on a positive – either with an uplifting piece of writing or another self-care activity.
Embrace the process
There may be days when you feel as though writing is a struggle, but these can end up being the times when you have the most fun. I urge you to trust the writing process and see it through.
And a bonus tip… Have fun!
A great way to enjoy writing for relaxation is to not take it too seriously. Inject some fun into your writing and smile at the results!
So, what next?
Explore what it means to relax and how writing can help.
Or take a look at the activities and tips in my Write to Relax series to get started on your writing for relaxation journey.
Happy writing!
Kate