I like finding things around the house to use as writing inspiration. At the weekend, I was drawn to a beautiful set of alphabet building blocks in my daughter's toy box. They went on to inspire the 3 alphabet writing prompts in this blog post. Enjoy!
Alphabet Chart
I ended up using my daughter's building blocks to create a piece of flash fiction. (It was about a robot, a monkey and an umbrella. Who knew this unlikely trio could be so much fun!) If you don't happen to have alphabet blocks lying around, you could try using an alphabet chart instead. I like this one from Guru Parents: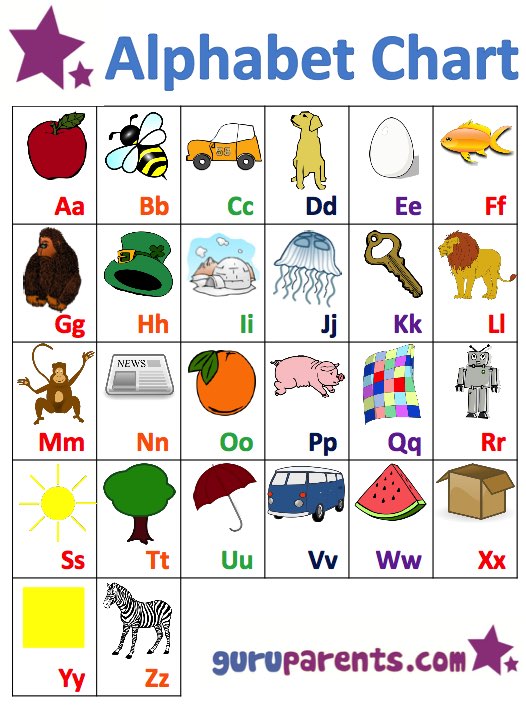 Here's what you do…
Look at the items on the chart and choose three that appeal to you.
Now, jot down any thoughts, feelings or ideas that come to mind when you consider these items. Also, think about the following: a problem they might cause, an obstacle they might encounter, and a resolution to all these difficulties.
Use your notes to create a piece of flash fiction that includes your problem, obstacle and resolution.
ABC Around the Room
Make use of this writing prompt anytime, anywhere. Some letters will be easier to find words for than others – but that's part of the fun.
Here's what you do…
Choose three letters from the alphabet.
Look around the room (or wherever you are) and write down a list of objects that start with your letters.
Now, look back over your list and choose three objects from it that interest you.
Jot down any thoughts, feelings or ideas that come to mind when you consider those objects.
When you've finished, choose one phrase from your writing that catches your attention. Use that phrase as the starting point for a poem or short story.
Alphabet Acrostic
This activity ended up being a real trip down memory lane for me, but it could just as easily have been rooted in the present day. We use language in so many ways during our everyday lives.
Here's what you do…
Spend a few minutes free writing on the subject of 'the alphabet'. Think about what it means to you. Perhaps it sparks memories from the past or maybe it makes you think about your life today.
Now, write the word 'alphabet' vertically down the page.
Use your free writing to help you fill in the lines of an acrostic poem.
Hope you have fun with these alphabet writing activities. Remember to let go and enjoy the process. This is your chance to play!